Interior Painting in Springboro by Kettering Kustom Painting.  You may want to remodel your bedroom with new painting or fancy wall paper.  Rich colors of gold with raised pattern designs on gold wall paper, can really make your bedroom feel rich and bold.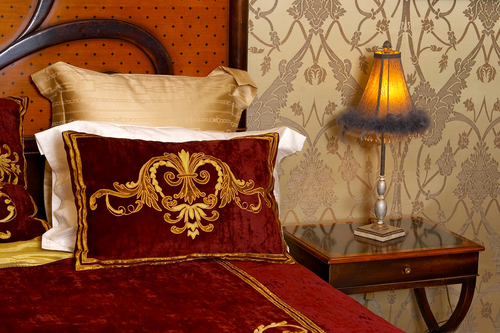 Kettering Kustom Painting can help you pick out your wall paper for new applications.  Or if you want your wall paper completely removed, we can do that too.  Wall paper removal is a tedious task, don't do it yourself.  Hire Kettering Kustom Painting for wall paper removal or new applications.
---
If you have a guest house that needs remodeling, we have the perfect kitchen for you.  Small and convenient for those who need just a small kitchen to make your guest feel like they are home.  Cabinets painted white or any color you like.  This particular kitchen has all the amenities for the guest.  Make a small kitchen look brilliant with white painted cabinets.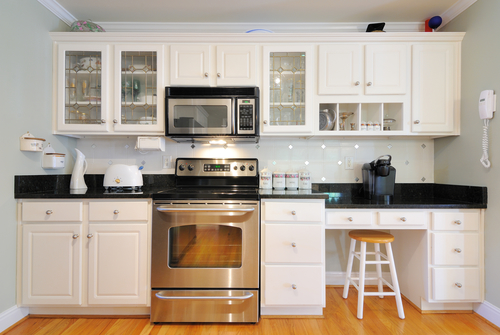 The light shade of color on these wall adds just enough accent of color, and complements white cabinets.  Painting the wood trim to match the cabinets is just what was needed.  Adding glass panels to a few cabinets also give more depth to this small room.
If you need help with your bedroom remodeling or guest house kitchen remodel,  give us a call for a free custom quote.  We do interior painting for any room of your home, apartment, condo, business or office.  No room is too small or too large. 
Our moto is   " We do it right the first time!"
Call Kettering Kustom Painting: 937-252-4932
Visit our Contact Page to send us an email.