Interior Painting Vandalia by Kettering Kustom Painting.  We provide custom painting of kitchens, bathrooms, living rooms for homeowners or businesses.  For special colors and wood cabinets, take a look at these photos displayed below.  These are just a few ways we can create your new design.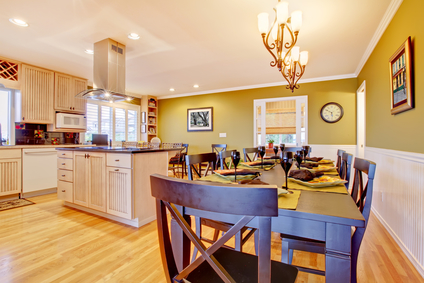 This kitchen has great space for a very large dining table.  This home has great wood work already.  The white base wood trim is great for painting any color you desire.  The kitchen cabinets are great too, wood that can be easily painted or stained.  Beautiful ceiling that is easy to paint white.  The light greenish gold walls is a nice complement to the room.  It gives a very warm feel. A nice warm environment for entertaining.  We can create the same theme for you too…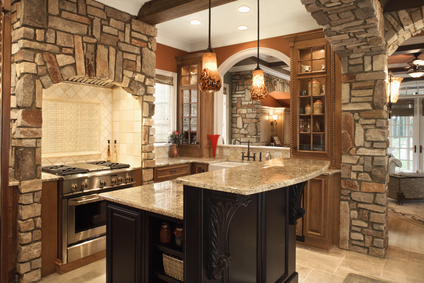 The use of rock in a kitchen is getting more popular.  It give a real warm feeling and the rock color tones bring nature into your home. Its been noted that natural and organic elements can bring calm to humans.  Most customers love this type of kitchen.  It is a form of luxury.  Having rock work in a kitchen can be a big ambition for the homeowners, but having the right contractor like Kettering Kustom Painting is the right company for the job.  Kettering Kustom Masonry is also able to get involved in this endeavor.  Be sure to visit their website too.  Lots of experience in Masonry work.  Our painting company can bring life to your kitchen, by adding the right colors and textures, it will be a place for the family to gather and enjoy.
For a custom quote, call or send us an email visit our Contact Page.
Phone: 937-252-4932